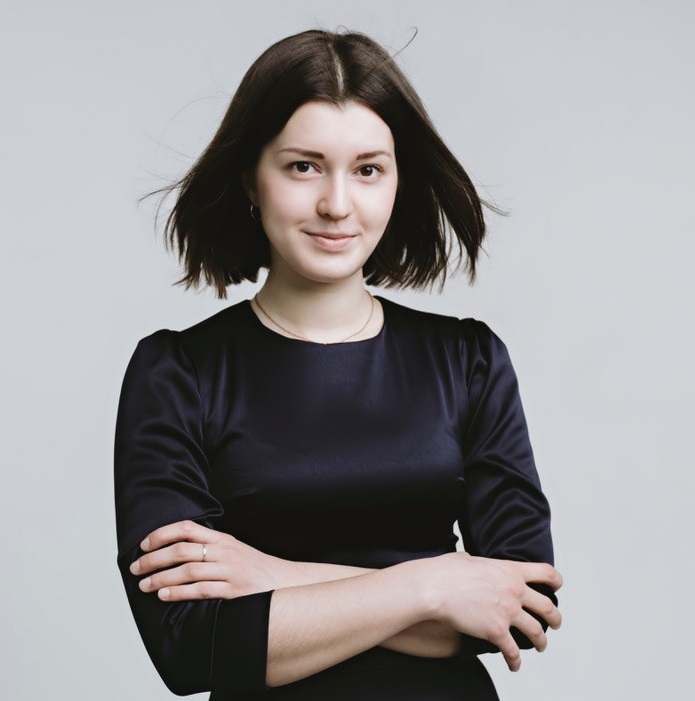 Background
Prizes
Rex Hobcroft Best Performance of a work by Beethoven
Sydney International Piano Competition
Prizes for each of the six Semi Finalists not proceeding to the Finals $1,000 each
Sydney International Piano Competition
Laureate: Leeds International Piano Competition (Leeds, UK)
First Prize: Orbetello International Piano Competition (Orbetello, Italy )
Third Prize, Junior Jury Prize and Chamber Music Prize: Ferruccio Busoni International Piano Competition (Bolzano, Italy)
Second Prize: International Piano Competition, Mauro Paolo Monopoli Prize (Barletta, Italy)
First Prize: Maria Yudina International Competition (St Petersburg, Russia)
Anna Geniushene earned her Bachelor's degree from the Tchaikovsky Moscow State Conservatory. In 2018 she completed a Master of Arts with Distinction and an Advanced Diploma at London's Royal Academy of Music, studying piano under Professor Christopher Elton.
Anna has also taken part in masterclasses with Ferenc Rados, Kirill Gerstein, Rita Wagner, Stephen Hough, Paul Lewis, Imogen Cooper, Pascal Rogé and Steven Osborne.Her solo and chamber music performances have taken her to such major concert halls as the Great Hall of Tchaikovsky Moscow State Conservatory, the Konzerthaus 'Neue Welt' and Chamber Hall of the Berliner Philharmonie, the Salle Cortot in Paris and Wigmore Hall in London.
A keen chamber musician, Anna has a piano duo with her husband, Lukas Geniušas, and a close collaboration with the Quartetto di Cremona. She also directs an annual festival in collaborative music-making, NikoFestCollection, in Moscow.
SEMI FINAL PROGRAM THEME
My choice of programme is based on an exploration of dualities of characters: although Schumann's op.111 is not a very popular set of pieces, it is composed with the characters Florestan and Eusebius in mind. "Vers Le flamme" is not so personal message althoughit also depicts the cold surreal world from the beginning and finishing with a bursting tongues of flames. Tchaikovsky's Grande Sonata is a reflection and arduous argumentative dialogue between two antipodes of a character: inward and outward. As for me this piece is representing two different worlds of Tchaikovsky himself being known as a very bright person in the friend's circle but having an affectation for being alone and keeping his real personality in a secret.
2021 Competition Performances
Preliminary Round Preliminary Round
Webcast: Online Concert
Saturday 3 July 2021, 2.00pm
Semi Final Round Semi Final Round
Webcast: Online Concert
Saturday 10 July 2021, 7.30pm
2021 Competition Repertoire
Preliminary Round
Preliminary Round
Frank Hutchens:
Two Little Birds
Ludwig van Beethoven::
Seven Bagatelles Op.33
I. Andante grazioso quasi allegretto
II. Scherzo – Allegro
III. Allegretto
IV. Andante
V. Allegro ma non troppo
VI. Allegretto quasi andante
VII. Presto
Béla Bartók:
Piano Sonata Sz.80
I. Allegro moderato
II. Sostenuto e pesante
III. Allegro molto
Sergei Rachmaninoff:
from Études-tableaux Op.33
Semi Final Round
Semi Final Round
Robert Schumann:
3 Fantasiestücke Op.111
I. C minor
II. A♭ major
III. C minor
Alexander Scriabin:
Vers la Flamme Op.72
Pyotr Ilyich Tchaikovsky::
Grand Sonata in G major Op.37
I. Moderato e risoluto
II. Andante non troppo quasi Moderato
III. Scherzo. Allegro vivace
IV. Finale. Allegro Vivace
Final Round
Final Round
Joseph Haydn:
Variations in F minor Hob.XVII:6
I. Theme
II. Variation 1
III. Variation 2
IV. Coda
Johannes Brahms:
Ballades Op.10
I. Andante
II. Andante
III. Intermezzo. Allegro
IV. Andante con moto
Sergei Prokofiev:
Piano Sonata No.8 in B♭ major Op.84
I. Andante dolce
II. Andante sognando
III. Vivace
Edvard Grieg:
from Lyric Pieces Op.62
Arno Babadjanian:
Humoresque