About
The Sydney International Piano Competition has so many loyal supporters, donors, audience members and creatives. Since it's inception in 1977, there have been 11 great competitions and countless recitals, masterclasses and tours in between. We would love for you to share your memories with us, be it a story via text or video recordings, photos or videos.
So dig out the old photo albums, think back to your favourite moments of the competitions, the controversies of an announcement or tell us about your experience if you had a competitor to stay. If you were a competitor or a jury member, we'd love to hear your experience of the competition, if anyone was particularly kind to you or if the jury members had fierce discussions over who should win. With such a committed audience, we know you've probably got hundreds of memories – and we want to hear them all!
Fill out the form here to recount your tales. Please include as much detail as possible – dates, names, venue, city. Include it in the file names or in a separate document. For files over 50MB, you can email the file to us.
Once uploaded we'll give you a call to discuss your memories!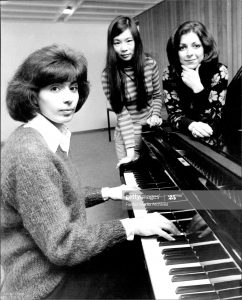 L to R — Manana Doidjashvili (USSR), Nancy Loo (Hong Kong) and Vanya Elias-Jose (Brazil) pictured at the Conservatorium. July 19, 1977.(Photo by Grant Peterson/Fairfax Media via Getty Images). 
Content Types: 
Memories (written, typed or, even better, a recording of you recounting the memory)
Photos
Programs, ticket stubs, posters
Newspaper listings, articles, reviews
Awards received: images of certificates, medals, trophies
Recordings – audio and/or visual
Any other information you want to share with us related to The Sydney
Three ways to send us your memories: 
Fill out the form on this page and upload images/ scans/ recordings/ text
Post us documents, photos or anything you would like us to keep in our archive*
Email us files exceeding the form's maximum size limit of 50mb
*Please remember to include your postal address if you'd like us to return them to you. 
Having trouble using the form?
We answer some of your technical questions at the bottom of this page.
Join us on the trip down memory lane
Interested in hearing others' memories? For those who give consent, we'll include the memories and stories via our newsletter, here on our website and/or on our social media so that we can take the trip down memory lane together. We can't wait to celebrate the past 42+ years of the competition with you all.
Make sure to click 'I agree' in the form to have your memories included. You can subscribe to our mailing list and follow us on Facebook, Twitter and Instagram to get all the latest updates.