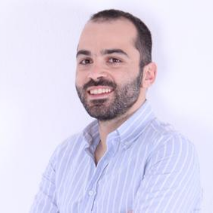 Greek pianist Nikos Stavlas studied at the Music School of his hometown, Serres (Elina Grammatopoulou), at the National Conservatory of Thessaloniki (Igor Petrin, Diploma and First Prize, 2003), at the University of Macedonia, Thessaloniki (Vinia Tsopela, BMus with distinction, 2005) and at the Royal College of Music (Yonty Solomon and Kathron Sturrock, Masters Degree with distinction, 2007), financially supported both by the Greek State Scholarship Foundation and by the RCM itself. He holds a PhD from Goldsmiths, University of London (Andrew Zolinsky and Keith Potter) on Ludwig van, a film and a musical composition dedicated to Beethoven by the Argentinian composer Mauricio Kagel.
He has appeared several times as a soloist with orchestras in Greece, Albania and the United Kingdom, and has given solo and chamber music recitals in Greece, Albania, Italy, Spain, Belgium, United Kingdom and the USA. He has also recorded live for BBC radio 3 and Catalunya música. He is a member of the Zalas Trio, with which he has performed in various venues in the UK and abroad, most importantly the Southbank centre and the Wigmore Hall in London and the Cadaqués international music festival and Gaudi's La Pedrera in Spain. He also performs with the Vladimir&Estragon Piano Duo and the experimental contemporary ensemble Oiseaux Bizarres, and explores rarely played repertoire with violinists Saaya Ikenoya and Sophia Baltatzi. He has recorded two CDs of Catalan and Latin American art song with soprano Patricia Caicedo.
Nikos currently teaches at Morley College and City Lit in London, where he leads weekly masterclasses for advanced pianists. He is in high demand as accompanist for institutions such as the Royal College of Music and the Royal Opera House, and since 2014 he is the principal accompanist of the Barcelona Festival of Song.