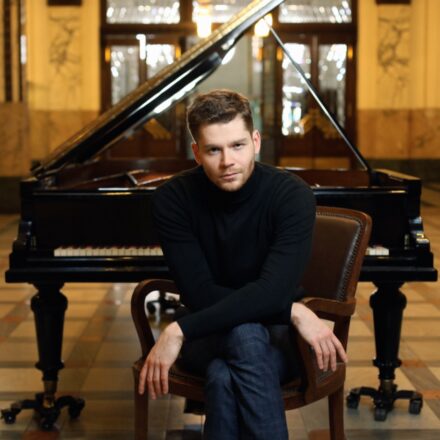 "These upcoming concerts are a very special home-coming of sorts for me. Australia will always have a place in my heart having already toured the length and breadth of your sunburnt country and I just cannot wait to be able to play again for you. I hope to see you all at these concerts in November and see you in the foyers after the concerts. "
Andrey Gugnin
A lyrical evening of virtuosic passion. 2016 Competition winner Andrey Gugnin returns to the Australian stage for a dazzling performance of music by Grieg, Tchaikovsky, Carl Vine and more.
Be swept away on a melodic journey of emotion that strikes an exquisite balance between titanic waves of impassioned sentiment and technical mastery. Known for his lucid touch and shimmering tones, Andrey is lauded for his "extraordinarily versatile and agile technique, which serves an inspired musical imagination." (Gramophone Magazine).
Andrey has released numerous CDs, with his recording of Shostakovich's solo piano works (Hyperion) winning the 2020 BBC music magazine awards for best Instrumentals. His recording of Shostakovich's Piano Concerto No.2 also featured on Steven Speilberg's Oscar®-winning film 'Bridge of Spies'. 
A magnetic performer who is in high demand worldwide as a recitalist, chamber music partner and concerto soloist, don't miss this extraordinary opportunity to see one of the greatest musical minds of our generation.
Program
Edvard Grieg: Ballade Op.24
Pyotr Tchaikovsky/Mikhail Pletnev: The Nutcracker Suite
I. March
II. Dance of the Sugar-Plum Fairy
III. Tarantella
IV. Intermezzo
V. Trepak (Russian Dance)
VI. The Tea (Chinese Dance)
VII. Andante Maestoso
Carl Vine: Piano Sonata No.2
I.
II. Legato, senza pedale
Valentin Silvestrov: 3 Bagatelles Op.1
I. Allegretto
II. Moderato
III. Moderato
Igor Stravinsky/Guido Agosti: The Firebird
I. Danse infernale du roi Kastcheï
II. Berceuse
III. Finale