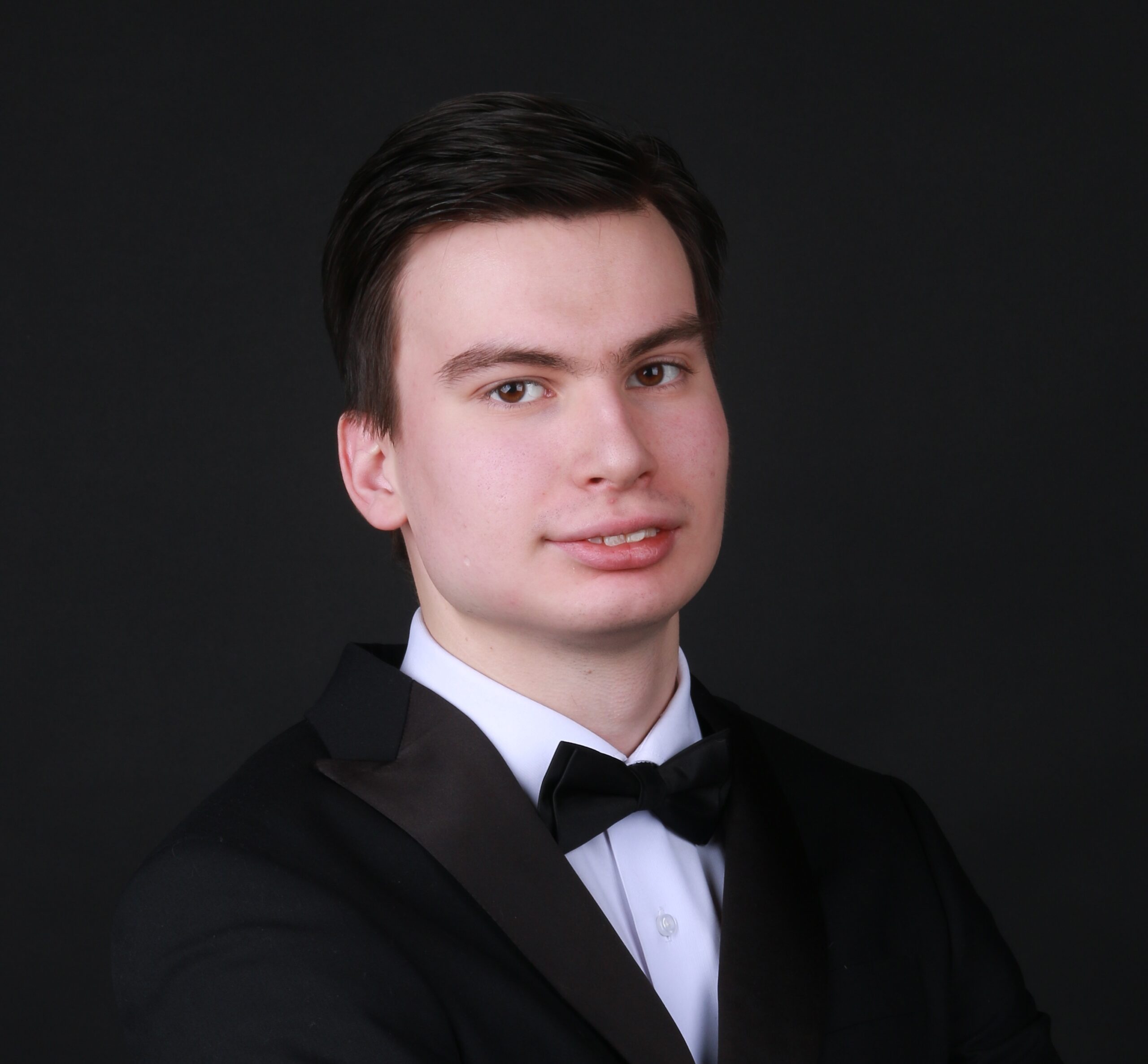 Background
Prizes
Second Prize: Maria Canals International Piano Competition (Barcelona, Spain)
First Prize: Concours Ile-de-France International Piano Competition (Maisons-Laffitte, France)
Third Prize: Paloma O'Shea Santander Piano Competition (Santander, Spain)
First Prize (equal) and Grand Prix: Astana Piano Passion International Festival of Classical Music and the Competition for Young Pianists (Astana, Kazakhstan)
Aleksandr Kliuchko started playing piano at the age of six, and gave his first recital the following year. He studied with Sergey Arsibashev in the F. Chopin Moscow State College of Musical Performance. He is currently studying piano under Réna Shereshevskaya at the École Normale de Musique de Paris 'Alfred Cortot' and has participated in masterclasses with Dmitry Bashkirov and Paolo Giacometti.
Aleksandr has performed with the National Philharmonic Orchestra of Russia, the Moscow Philharmonic Orchestra, the Rostov Academic Symphony Orchestra and Governor's Orchestra of the Irkutsk Regional Philharmonic. He has also performed with the Spanish Radio and Television Symphony Orchestra, the Catalan Youth Orchestra, the National Symphony Orchestra of the Dominican Republic and the Astana Opera Symphony Orchestra in Kazakhstan, under the direction of such conductors as Miguel Ángel and Gómez Martínez.
Aleksandr has appeared in various international festivals, including the Stars on the Baikal Festival (Southern Siberia), the Gradus International Piano Festival (Denmark) and the Musical Olympus International Festival (St Petersburg, Russia).
2021 Competition Performances
Preliminary Round Preliminary Round
Webcast: Online Concert
Sunday 4 July 2021, 11.00am
2021 Competition Repertoire
Preliminary Round
Preliminary Round
Ludwig van Beethoven:
Piano Sonata No.17 in D minor Op.31 No.2 'The Tempest' 
I. Largo – Allegro
II. Adagio
III. Allegretto
Franz Liszt:
Rhapsodie espagnole S.254
Sergei Prokofiev:
Piano Sonata No.3 in A minor Op.28
Carl Vine:
from Five Bagatelles
Semi Final Round
Semi Final Round
Johann Sebastian Bach:
English Suite No.2 in A minor BWV 807
I. Prélude
II. Allemande
III. Courante
IV. Sarabande
V. Les agréments de la même Sarabande
VI. Bourrée I alternativement
VII. Bourrée II
VIII. Gigue
Frédéric Chopin:
Scherzo No.1 in B minor Op.20
Igor Stravinsky:
Three Movements from 'Petrushka'
I. Russian Dance
II. Petrushka's Cell
III. The Shrovetide Fair
Final Round
Final Round
Franz Liszt:
from Années de Pèlerinage Book II S.161
VII. Après une lecture de Dante: Fantasia quasi Sonata
Frédéric Chopin:
Nocturne in B major Op.62 No.1
Alexander Scriabin:
Piano Sonata No.5 in F# major Op.53
Modest Mussorgsky:
Pictures at an Exhibition 
[Promenade I] Allegro giusto, nel modo russico; senza allegrezza, ma poco sostenuto
I. The Gnome
[Promenade II]. Moderato commodo assai e con delicatezza
II. The Old Castle
[Promenade III]. Moderato non tanto, pesamente
III. Tuileries
IV. Cattle
[Promenade IV]. Tranquillo
V. The Ballet of the Unhatched Chicks in their Shells
VI. Samuel Goldenberg and Schmuÿle
[Promenade V] Allegro giusto, nel modo russico; poco sostenuto
VII. The Market at Limoges (The Great News)
VIII. Catacombs
IX. The Hut on Hens' Legs
X. The Great Gate of Kiev
Sergei Rachmaninoff:
from Études-tableaux Op.33
Carl Vine:
from Five Bagatelles