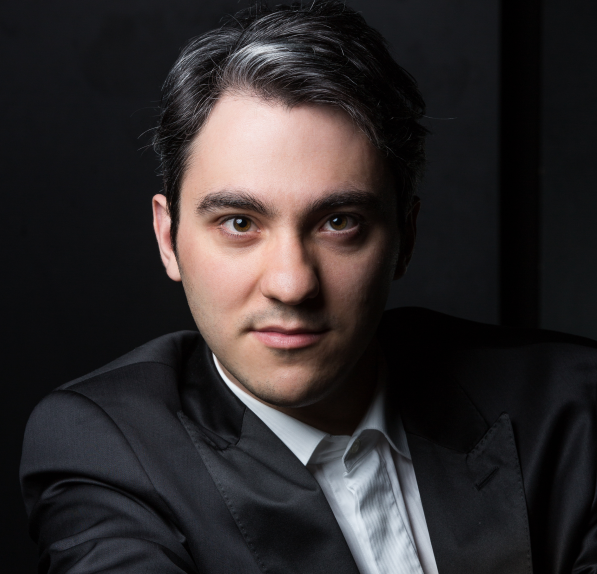 Background
Prizes
Ernest Hutcheson First Prize
Sydney International Piano Competition
Edward Goll Best Performance of a work by Liszt
Sydney International Piano Competition
Roger Smalley Best Preliminary Recital
Sydney International Piano Competition
Malcolm Williamson Best Performance of an Australian Piece
Sydney International Piano Competition
Miriam Hyde Best Performance of a work by a Romantic period composer (excluding Liszt)
Sydney International Piano Competition
Lance Dosser Best Performance of a work by a Classical period composer (excluding Beethoven)
Sydney International Piano Competition
Best Program Presentation in Semi Final or Final
Sydney International Piano Competition
First Prize, Prix Ranieri 111: Monte-Carlo Piano Masters (Monte Carlo, Monaco)
First Prize and Audience Award: Hamamatsu International Piano Competition (Hamamatsu, Japan)
2021 Winner – Supported by Club 32 donor Anthony and Suzanne Maple-Brown
Alexander Gadjiev began studying piano with his father, Siavush Gadjiev, making his concert debut at the age of nine and giving his first solo recital a year later. He received his Master's Degree at the Mozarteum of Salzburg, under the guidance of Pavel Gililov. Following his Master's Degree, Gadjiev took his Konzertexamen in Berlin under Eldar Nebolsin.
Alexander has performed at prestigious festivals, including Verbier, the Rubinstein Festival in Łódź, the Chopin Festival in Duszniki, Ravenna Musica and the Kammermusik Salzburg Festival. In demand as a soloist with orchestras, and as a recitalist, he has performed in the Salle Gaveau in Paris, the Great Hall of Ljubljana's Philharmonie, La Fenice in Venice and the Tchaikovsky Moscow State Conservatory. A tour of Japan included engagements in Tokyo, Osaka and Sapporo.
Recently he was selected for the 2019 – 2021 BBC New Generation Artists Scheme, which provides opportunities for him to perform in many of the major festivals and series in the UK, both in recital and as soloist with the BBC orchestras, and to record regularly for BBC Radio 3.
SEMI FINAL PROGRAM THEME
As obvious as it may seem, my program for the semifinal round rotates around Russian piano music. But the idea that lies behind this more obvious appearance is slightly more elaborated: I wanted to show what influence European tradition has had on several composers of the past century.
I therefore started the program with one of the most celebrated Prelude and Fugues by D. Shostakovich, namely the e-minor one. It is a well known fact that Shostakovich composed this cycle of preludes and fugues after having judged in the Bach Competition in Leipzig; having heard so much music of the great Master from Eisenach has inspired him as well in pursuing a long-breath project centered on one of his favorite aspects in music: counterpoint and polyphony. It therefore felt natural to choose one of the fugues that best represents this love towards towards complex line-intertwinement, and the Double-Fugue in e minor is a great example in this sense.
I then continued with an "early" manifestation of Prokofiev's genius, the Vision fugitives.
In this work Prokofiev clearly shows the need for new concepts: his Visions are short sketches, complete in themselves, small representations of entire universes, as it is portrayed in the celebrated poem by Balmont, who himself drew inspiration from Prokofiev's miniatures.
In every fleeting vision I see worlds,
Filled with the fickle play of rainbows.
At the same time we do notice a certain fascination for the sonorous world of Claude Debussy: Prokofiev was a great admirer of his music and it is therefore no surprise to see such influence in these experimental works. Likewise time I find really interesting how Prokofiev is able to depict a completely different world (although using some of Debussy's techniques), which never ceases to amaze me in terms of personality and unexpectedness. It is worth noticing the Prokofiev himself lived for some years in Paris, before moving back to Russia in 1936.
Tcherepnin is a lesser known composer that deserves though more attention. In this program I have dedicated him some space in the form of two pieces from his op.88. Tcherepnin lived and studied in Paris too, and we can hear some of that influence in his refined use of harmony and sound-effects. In these two pieces, written when he had already moved to the US and dated in the late 50's, we also hear the influence of a culture that was opening to new horizons: Tcherepnin himself lived and travelled extensively throughout the Asian continent, and perhaps the Meditation and Invocation are affected by an increasing interest towards Eastern philosophies.
The program terminates then with the colossal Seventh Sonata by Prokofiev, one of his late works.
Written during World War II, it is an extremely daring and masterfully crafted work of art in the tradition of the Classical Sonata. Prokofiev's genius in this case is expressed by the ability to retain an "old" form, (the Sonata-form in the first movement, the division into three movements etc.) but at the same time to adapt it to the modern times: the opening movement wanders around different key-centers but stays substantially "atonal", although there never is the feeling of being lost in the music. On the contrary, its never-stopping motor-action intertwined by sections of intimate reflection build up a glorious monument to the Russian Nation and Spirit, which was rejecting the threats coming from Nazi Germany.
After the more lyrical second movement (in which though, I feel there is the climax of the entire piece…), the Sonata ends with the celebrated Precipitato, a toccata which leaves no doubt about the future fortunes of the Country, ending in a glorious B-flat Major chord, repeated in various registers and affirmed as the final statement.
2021 Competition Performances
Preliminary Round Preliminary Round
Webcast: Online Concert
Friday 2 July 2021, 7.30pm
Semi Final Round Semi Final Round
Webcast: Online Concert
Saturday 10 July 2021, 7.30pm
Final Round Final Round
Webcast: Online Concert
Friday 16 July 2021, 2.00pm
2021 Competition Repertoire
Preliminary Round
Preliminary Round
Joseph Haydn:
Sonata in C major Hob.XVI:48
I. Andante con espressione
II. Rondo. Presto
Frédéric Chopin:
Ballade No.4 in F minor Op.52
Carl Vine:
from Five Bagatelles
Olivier Messiaen:
from Vingt Regards sur l'enfant-Jésus
XV. Le Baiser de l'Enfant-Jésus
Alexander Scriabin:
from 3 Morceau Op.45
Semi Final Round
Semi Final Round
Dmitry Shostakovich:
Prelude and Fugue No.4 in E minor Op.87
Sergei Prokofiev:
from Vision fugitives Op.22
I. Lentamente
II. Andante
III. Allegretto
IV. Animato
VII. Pittoresco (Arpa)
IX. Allegro tranquillo
XI. Con vivacità
XII. Assai Moderato
XIV. Feroce
XV. Inquieto
XVI. Dolente
XVII. Poetico
XVIII. Con una dolce lentezza
XX. Lento irrealmente
Alexander Tcherepnin:
from 8 Pieces Op.88
I. Meditation
V. Invocation
Sergei Prokofiev::
Piano Sonata No.7 in B♭ major Op.83 
I. Allegro inquieto
II. Andante caloroso
III. Precipitato
Final Round
Final Round
Franz Liszt:
from Harmonies poétiques et religieuses S.173 
Frédéric Chopin:
Sonata No.2 in B♭ minor Op.35
I. Grave – Doppio movimento
II. Scherzo – Più lento
III. Marche funèbre
IV. Finale. Presto
Ludwig van Beethoven/Franz Liszt:
Symphony No.7 in A major Op.92/S.464 
I. Poco sostenuto – Vivace
II. Allegretto
III. Presto
IV. Allegro con brio
Frédéric Chopin:
from 24 Preludes Op.28
Sergei Rachmaninoff:
from 10 Preludes Op.23