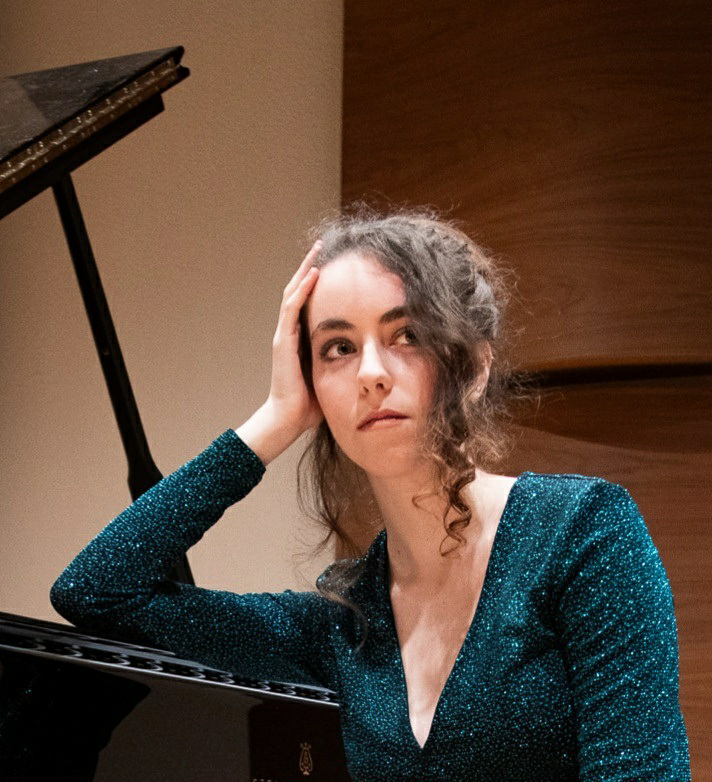 Background
Prizes
William Murdoch Fourth Prize
Sydney International Piano Competition
Soloist Prize: Jmanuel und Evamaria Schenk Stiftung (Zofingen, Switzerland)
Prizewinner: Migros-Kulturprozent (Zurich, Switzerland)
Prix Collard: Kiefer Hablitzel /Göhner Music Prize (Bern, Switzerland)
Third Prize: Royal Birmingham International Piano Festival Competition (Birmingham, UK)
Third Prize: Concours International de Piano Antoine de Saint-Exupéry (Saint-Priest, France)
Second Prize and Critic Prize: Primer Palau Competition/Palau de la Música Catalana Barcelona with IndiviDUAL piano duo (Barcelona, Spain)
Alice Burla is currently pursuing her Soloist Master's degree with Professor Claudio Martínez Mehner in Basel, Switzerland.
Alice has performed both as a soloist and chamber musician in venues such as Carnegie Hall, Teatro la Fenice, Salle Cortot, and the World Economic Forum in Geneva. She has participated in major international festivals in Verbier, Salzburg, Santander, Israel, Poland and Hamamatsu. She has worked with renowned musicians such as Leonidas Kavakos, Richard Goode, Stephen Kovacevich, Ferenc Rados, Dmitri Alexeev, Maxim Vengerov, François Benda and Péter Eötvös, amongst many esteemed others. With Pierre Delignies, Alice co-founded the piano duo IndiviDUAL, a project which has seen them perform to acclaim at Palau de la Música Catalana in Barcelona and at the Royal Concertgebouw as part of the Holland Festival.
In 2018, she made her concert debut with the Sinfonieorchester Basel, performing Prokofiev's Second Piano Concerto. Other orchestral engagements include concerts with the Brooklyn Philharmonic, Manhattan Chamber Orchestra, New York Sinfonietta, Donetsk Philharmonic Orchestra and Torun Symphony Orchestra.
SEMI FINAL PROGRAM THEME
This program is put together as a spiritual journey through French music. Although in different musical languages, each of these three composers have a very strong connection to nature and an active spirit expressed through their music.
I felt it important to begin with Bach, as this is music which is extremely balanced (and balancing!) and abundant in all the elements of nature – it is grounded and very human while being expressive, intellectual and highly spiritual.
The French Overture is an amazing example of the French Baroque tradition, with its eloquent use of ornamentation and dances unique to this epoque.
Transitioning into Debussy and Messiaen – these pieces provide a more specifically coloristic writing, combining the senses to highlight individual elements in nature; similarly to the French Overture, each of these works has a very powerful, condensed and clear energy and expressivity in a smaller format, giving us the sensation of travelling through a variety of unique 'worlds' through each of the pieces.
The Debussy Préludes dive into the realm of elemental creatures, with the representation of air ("Les fées sont d'exquises danseuses"), water ("Ondine") and light ("Feux d'artifice").
I felt that, energetically, Messiaen fit perfectly into this program (and indeed – Messiaen was influenced quite a lot by the French organ tradition as well as by Debussy!)
The "Regard de l'Esprit de joie" is to me the highest expression of joy, combining the forces of sky and earth to the 'thème de dieu', 'thème de joie' and oriental dances, and I wanted to finish this program with this musical 'ascension' into the Spirit…
2021 Competition Performances
Preliminary Round Preliminary Round
Webcast: Online Concert
Friday 9 July 2021, 2.00pm
Semi Final Round Semi Final Round
Webcast: Online Concert
Thursday 15 July 2021, 7.30pm
Final Round Final Round
Webcast: Online Concert
Sunday 18 July 2021, 3.00pm
2021 Competition Repertoire
Preliminary Round
Preliminary Round
Joseph Haydn:
Sonata in G major Hob.XVI:6
I. Allegro
II. Minuet – Trio
II. Adagio
III. Allegro molto
Franz Liszt:
Bagatelle sans Tonalité S.216a
Carl Vine:
from Five Bagatelles
I. Darkly
II. Leggiero e legato
III. Gentle
IV.
Franz Liszt:
Nuages gris S.199
Béla Bartók:
Dance Suite Sz.77
I. Moderato
II. Allegro molto
III. Allegro vivace
IV. Molto tranquillo
V. Comodo
VI. Finale. Allegro
Alexander Scriabin:
from 4 Preludes Op.37
Semi Final Round
Semi Final Round
Johann Sebastian Bach:
Overture in the French Style BWV 831
I. Overture
II. Courante
III. Gavotte I/II
IV Passepied I/II
V. Sarabande
VI. Bourrée I/II
VII. Gigue
VIII. Echo
Claude Debussy:
from Préludes Book 2
IV. Les fées sont d'exquises danseuses
VIII. Ondine
Claude Debussy:
from Préludes Book 1
Claude Debussy:
from Préludes Book 2
Olivier Messiaen:
from Vingt Regards sur l'enfant-Jésus 
X. Regard de l'Esprit de Joie
Final Round
Final Round
Carl Philipp Emanuel Bach:
Freie Fantasie in F# minor H.300
Robert Schumann:
Concert sans Orchestre in F minor Op.14 (1836 version)
I. Allegro Brillante
II. Quasi variazioni. Andantino De Clara Wieck
III. Prestissimo possibile
György Kurtág:
from Játékok Book 3
Hommage à Farkas Ferenc (3) (evocation of Petrushka)
Hommage à Schubert
György Kurtág:
from Játékok Book 6
Les Adieux (in Janácek's Manner)
Gabriel Fauré:
from 3 Nocturnes Op.33
Samuel Barber:
Sonata in E♭ minor Op.26
I. Allegro energico
II. Allegro vivace e leggiero
III. Adagio mesto
IV. Fuga: Allegro con spirito
Luciano Berio:
from 6 Encores for piano
György Ligeti:
from Études Book 1