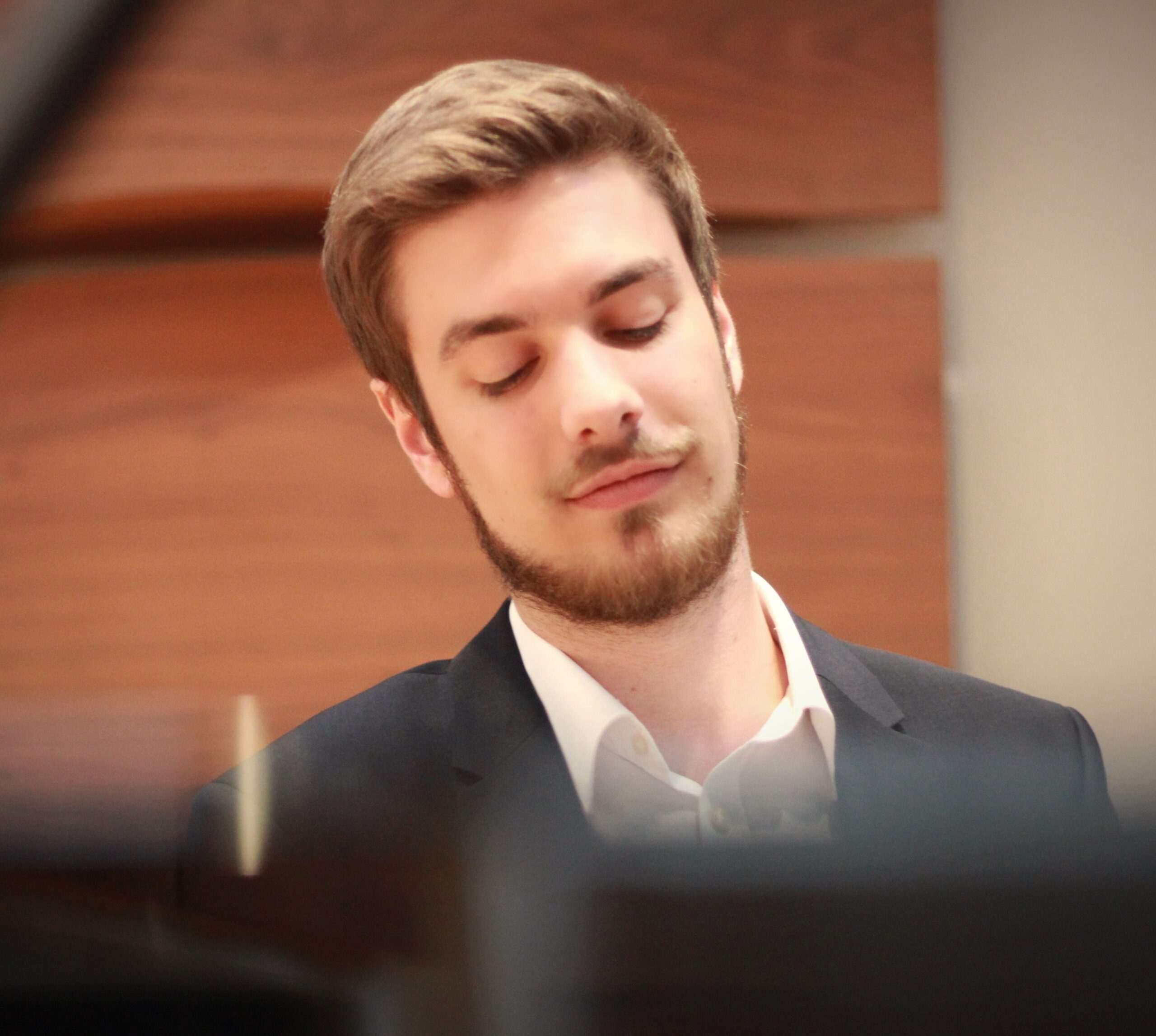 Background
Prizes
Winner, Prix Collard: Kiefer Hablitzel, Göhner Musikpreis, (Bern, Switzerland)
First Prize, Press Prize and Audience Prize: Euregio Piano Award, International Piano Competition (Geilenkirchen, Germany )
First Prize, Compositores de España International Piano Competition, (Madrid, Spain)
Second Prize: Brescia Classica International Piano Competition (Brescia, Italy)
First Prize: Stiftung für Junge Musiktalente Meggen (Meggen, Switzerland)
Starting the piano at the age of nine, it was only three years later that Dominic Chamot was accepted into the class of Sheila Arnold in the Pre-College division of the Hochschule für Musik und Tanz, Cologne, Germany. In 2014 he began studies with Claudio Martínez Mehner at the University of Music in Basel, subsequently completing his Bachelor's and Master's degrees (Specialized Performance–Soloist). He has also participated in masterclasses with renowned professors Ferenc Rados, Matti Raekallio and Dimitri Bashkirov.
Dominic has played throughout Europe in such hallowed halls as the Berlin and Cologne Philharmonies and Vienna's Musikverein, but also in New York's Steinway Hall as part of the Classic Bridge Festival. He has collaborated with orchestras including the WDR Symphony Orchestra Cologne, ORF Symphony Orchestra Vienna, Basel Symphony Orchestra and the St Petersburg Chamber Orchestra with conductors such as Jukka-Pekka Saraste, Cornelius Meister and Joseph Bastian.
Dominic is an avid chamber musician and accompanist: he has been invited to prestigious European chamber music festivals, and worked as an accompanist and musician-actor for Theater Basel.
2021 Competition Performances
Preliminary Round Preliminary Round
Webcast: Online Concert
Thursday 8 July 2021, 2.00pm
2021 Competition Repertoire
Preliminary Round
Preliminary Round
Leoš Janáček:
In the Mists
I. Andante
II. Molto Adagio
III. Andantino
IV. Presto
Franz Liszt:
Réminiscences de Norma de Bellini S.394
Arthur Benjamin:
Scherzino
Semi Final Round
Semi Final Round
Domenico Scarlatti:
Keyboard Sonata in E major K.380
Carl Philipp Emanuel Bach:
Keyboard Sonata in G minor H.47
Franz Liszt:
Piano Sonata in B minor S.178
Final Round
Final Round
Franz Schubert:
Piano Sonata in B♭ major D.960
I. Molto moderato
II. Andante sostenuto
III. Scherzo. Allegro vivace con delicatezza
IV. Allegro ma non troppo
Sergei Prokofiev:
Piano Sonata No.8 in B♭ major Op.84
I. Andante dolce
II. Andante sognando
III. Vivace
Johann Sebastian Bach:
from The Well-Tempered Clavier Book I
Prelude in B♭ minor BWV 867
Johann Sebastian Bach:
from The Well-Tempered Clavier Book I
Fugue in B♭ minor BWV 867