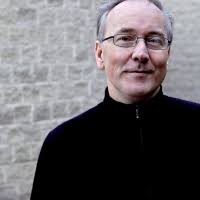 Ian Munro has emerged over recent years as one of Australia's most distinguished and awarded musicians, with a career that has taken him to thirty countries in Europe, Asia, North America and Australasia. His award in 2003 of Premier Grand Prix at the Queen Elisabeth International Competition for composers (Belgium) is a unique achievement for an Australian and follows on from multiple prizes in international piano competitions in Spain (Maria Canals), Italy (Busoni), Portugal (Vianna da Motta) and the UK, where his second prize at the Leeds International Piano Competition in 1987 established his international profile.
Pianist
After completing his early training in Melbourne under the guidance of Roy Shepherd, a pupil of Alfred Cortot, and furthered his studies in Vienna, London and Italy with Noretta Conci, Guido Agosti and Michele Campanella, his international career began in the UK, where he has performed with the Royal Philharmonic Orchestra, Philharmonia, English Chamber Orchestra, London Mozart Players, BBC Concert Orchestra, BBC Scottish Symphony Orchestra and broadcast widely for the BBC. Elsewhere, he has performed with orchestras in Poland, Italy, Portugal, Russia, the USA, China, New Zealand and all the major orchestras in Australia in over sixty piano concerti. A widely experienced chamber musician, Ian joined the acclaimed Australia Ensemble in Sydney in 2000.
Ian has recorded CDs for ABC Classics, Hyperion, Cala, Naxos, Marco Polo, Tall Poppies and the UK label Warehouse. Recent discs the collected music by Tasmanian composer Katharine Parker and the piano concerto by Elena Kats-Chernin, commissioned for Ian Munro by the Sydney Symphony Orchestra. During the last few concert seasons Ian has performed concerti by Ravel, Munro, Mozart, Kats-Chernin, Gershwin and Edwards, toured to the UK, Russia, Belgium, Italy, Switzerland, Uzbekistan and throughout Australia and New Zealand in recitals, chamber music and concerto performances. Increasingly in demand as a composer, he was Featured Composer for Musica Viva in 2011. His flute concerto and song cycle 'Three birds' received their premieres in 2016 with the Melbourne Symphony Orchestra and Australia Ensemble respectively.
Composer
Since 2003, his works have been frequently heard all over Australia, with broadcasts on the ABC and BBC. Commissions from the Tasmanian Symphony Orchestra through a Symphony Australia residency led to 'Blue Rags' (2005), 'Drought & Night Rain' (2005) and 'O Traurigkeit' (2006), written for soloist Sue-Ellen Paulsen (cello). In 2011 he was Featured Composer for Musica Viva's international season, in which his piano trio 'Tales from Old Russia' (2008), String Quartet no.1, Clarinet Quintet and Piano Quintet no.2 were toured by the Eggner Trio, Brentano Quartet, Sabina Meyer and the Modigliano Quartet, and the Goldner Quartet with Munro as soloist. Other works have been written for Gondwana Voices, the Australian Chamber Orchestra, Melbourne Chorale, Flinders Quartet, Huntington Festival and Plexus.
In 2016, his flute concerto, commissioned by the Melbourne Symphony Orchestra, received its premiere in November 2016 with soloist Prudence Davis. The song cycle 'Three birds', commissioned by Norma Hawkins for the Australia Ensemble, will be played in August with Sara MacLiver as soloist.