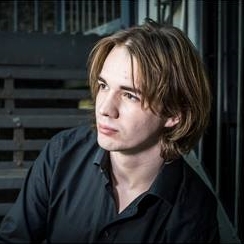 Background
Prizes
Geoffrey Tozer Most Promising Pianist
Sydney International Piano Competition
Selected for representation: Young Concert Artists Auditions (France)
Selected for representation: Young Concert Artist International Auditions (USA)
Fifth Prize: China International Piano Competition (China)
Second Prize: Lagny-sur-Marne International Piano Competition (France)
First Prize: Intermediate Category Russian Music International Piano Competition (USA)
Daniel Lebhardt studied at the Franz Liszt Academy of Music in Budapest with Professor István Gulyás and Professor Gyöngyi Keveházi and, since 2010, at the Royal Academy of Music in London, firstly with Professor Christopher Elton, and currently with Professor Pascal Nemirovski. He has participated in Masterclasses with Alfred Brendel, Leslie Howard, Professor Ferenc Rados, Professor Natalia Trull, Professor Maxim Vengerov and Professor Mikhail Voskresensky.
Concert highlights include recitals at the Auditorium du Louvre in Paris and the Béla Bartók Memorial House in Budapest. He has also given recitals in Austria, Japan and the USA. Daniel took part in the BBC Proms Composer Portrait of Olga Neuwirth broadcast by Radio 3 in 2012, and has given recitals with clarinettist Mark van der Wiel and violinist Benjamin Baker.
In 2015 he was selected for representation by Young Classical Artists Trust (YCAT) in London and made his debut at Wigmore Hall, under the auspices of the Royal Academy of Music's Patron's Award.
2016 Competition Repertoire
Preliminary Round
Round 1: 20-Minute Recital
Johann Sebastian Bach:
Partita No.1 in B♭ Major BWV 825
Praeludium
Allemande
Corrente
Sarabande
Menuet I
Menuet II
Gigue
Graham Hair:
Under Aldebaran (1984)
Béla Bartók:
Étude Op.18 No.1 Allegro molto
Round 2: 30-Minute Recital
Ludwig van Beethoven:
Sonata No.16 in G Major Op.31 No.1
Allegro vivace
Adagio grazioso
Rondo. Allegretto – Presto
Maurice Ravel:
Jeux d'eau
Sergei Rachmaninoff:
Étude-Tableau in E♭ Major Op.33 No.7
Semi Final Round
Round 1: 65-Minute Recital
Intermezzo in A Major Op.118 No.2
Intermezzo in E♭ minor Op.118 No.6
Maurice Ravel:
Gaspard de la nuit
Franz Liszt:
Sonata in B minor S.178
Lento assai – Allegro energico – Grandioso – Recitativo – Andante sontsenuto – Quasi adagio – Allegro energico – Stretta quasi presto – Presto – Prestissimo – Andante sostenuto – Allegro moderato – Lento assai
Round 2: Accompaniment/Chamber Music
César Franck:
Sonata for Violin and Piano in A Major
Allegretto ben moderato
Allegro
Ben moderato: Recitative-Fantasia
Allegretto poco mosso
Robert Schumann::
Piano Quintet in E♭ Major Op.44
Allegro brillante
In modo d'una marcia. Un poco largarmente
Scherzo: Molto vivace
Allegro ma non troppo
Final Round
Round 1: 18th Century Concerto
Wolfgang Amadeus Mozart:
Concerto No.26 in D Major K.537
Allegro
Larghetto
Allegretto
Round 2: 19th or 20th Century Concerto
Johannes Brahms:
Concerto No.2 in B♭ Major Op.83
Allegro non troppo
Allegro appassionato
Andante
Allegretto grazioso