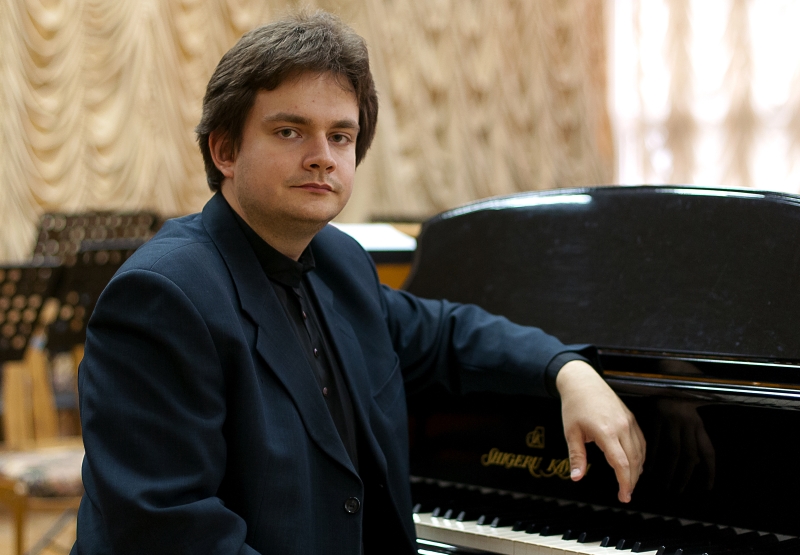 Background
Prizes
Second Prize: Hamamatsu International Piano competition, Second prize (Japan)
Third and Audience Prize: Ferruccio Busoni International Piano Competition (Italy)
First Prize: All-Ukrainian piano competition (Ukraine)
Second Prize: International Piano Competition "Citta Di Gorizia" (Italy)
First Prize: International Competition for Young Pianists in Memory of Vladimir Horowitz, Intermediate group (Ukraine)
Roman Lopatynskyi studied piano from the age of five at Kyiv Lysenko Secondary Specialized Music Boarding School, under Iryna Barynova and Larysa Raiko. He currently studies at two different academies: the Pyotr Ilyich Tchaikovsky National Music Academy of Ukraine with Professor Sergey Riabov and the International Piano Academy Incontri col Maestro in Italy with Professor Boris Petrushansky.
He is the recipient of scholarships from the foundation Children's Friends, Charitable Fund of Switzerland, Vlada Lytovchenko's Charitable Fund and Leonid Kuchma's Presidential Fund, Ukraine.
Roman has given concert tours and performed in festivals in Ukraine, Lithuania, Poland, Germany, Switzerland, Israel, Japan, Lichtenstein, Italy, Russia, France, Morocco, Japan and the USA. He has performed extensively with the National Philharmonic of Ukraine. He has also made radio broadcasts in the Ukraine and Germany with chamber music ensembles and as soloist with orchestra.
2016 Competition Repertoire
Preliminary Round
Round 1: 20-Minute Recital
Joseph Haydn:
Sonata in B minor Hob.XVI:32
Allegro moderato
Menuetto
Finale. Presto
Pyotr Ilyich Tchaikovsky/Samuil Feinberg:
Scherzo from 'Symphony No.6'
Round 2: 30-Minute Recital
Elena Kats-Chernin:
Page Turn (2000)
Johannes Brahms:
Intermezzo in E♭ minor Op.118 No.6
Igor Stravinsky:
Trois movements de Pétrouchka
Danse Russe
Chez Pétrouchka
La semaine grasse
Semi Final Round
Round 1: 65-Minute Recital
Franz Schubert:
Sonata No.14 in A minor D.784
Allegro gusto
Andante
Allegro vivace
Paul Hindemith:
Suite '1922' Op.26
March
Shimmy
Nachtstück
Boston
Ragtime
Sergei Rachmaninoff:
from 10 Preludes Op.23
II. Maestoso in B♭ Major
X. Largo in G Major
from 13 Preludes Op.32
IV. Allegro con brio in E minor
XI. Allegretto in B Major
XII. Allegro in G# minor
XIII. Grave in D♭ Major
Round 2: Accompaniment/Chamber Music
Johannes Brahms:
Sonata for Violin and Piano No.3 in D minor Op.108
Allegro
Adagio
Un poco presto e con sentimento
Presto agitato
César Franck:
Piano Quintet in F minor
Molto moderato quasi lento – Allegro
Lento con molto sentiment
Allegro non troppo ma con fuoco
Final Round
Round 1: 18th Century Concerto
Wolfgang Amadeus Mozart:
Concerto No.24 in C minor K.491
Allegro
Larghetto
Allegretto
Round 2: 19th or 20th Century Concerto
Sergei Rachmaninoff:
Concerto No.2 in C minor Op.18
Moderato
Adagio sostenuto
Allegro scherzando