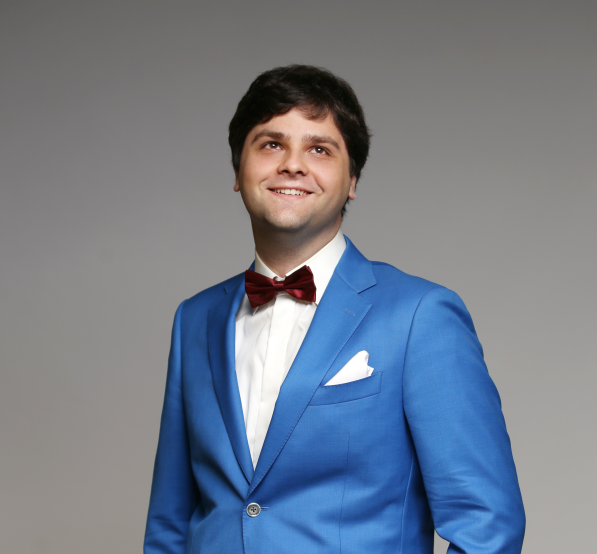 Background
Prizes
First Prize and Special Jury Mention: Citta di Cantù 29th International Piano and Orchestra Competition (Cantù, Italy)
Second Prize and the Royal Philharmonic Orchestra Prize: 15th Hastings International Piano Concerto Competition (Hastings, UK)
Gold Medal Winner: Royal Northern College of Music Gold Medal Competition (Manchester, UK)
First Prize, Special Tatiana Gaydamovich Award and Special Moscow Tchaikovsky Conservatory Prize for the best performance of a work by Taneyev: Sixth International Sergei Taneyev Chamber Ensembles Competition (Kaluga, Russia)
Maxim Kinasov completed his Bachelor of Music Degree with Distinction in Moscow's Tchaikovsky Conservatory and his Master of Music (Performance) with Distinction at the Royal Northern College of Music in Manchester. He is currently studying an International Artist Diploma course at the RNCM.
Maxim has been a soloist of the St Petersburg Music House since 2012 and has performed in prestigious venues across Russia, Italy, Spain, UK, Brazil and US, including Carnegie Hall, Wigmore Hall, Bridgewater Hall and the Great Hall of the Moscow Conservatoire. He has performed internationally with the St Petersburg Academic Symphony Orchestra, Orchestra of the Teatro Carlo Felice, Royal Philharmonic Orchestra and The Hallé.
In April 2020 Maxim garnered multiple awards including Artist of the Month for the Talent Unlimited Music Charity and an Ian Fleming Award at the Help Musicians Postgraduate Awards.
Maxim has participated in the International Rachmaninov Music Festival and the 'Gathering Friends' International Music Festival in Russia, the South Downs Summer Music Festival and the Chester Music Festival in the UK.
2021 Competition Performances
Preliminary Round Preliminary Round
Webcast: Online Concert
Friday 2 July 2021, 2.00pm
2021 Competition Repertoire
Preliminary Round
Preliminary Round
Sergei Slonimsky:
Intermezzo in Memory of Brahms
Johannes Brahms:
Variations on a Theme by Paganini Op.35
Book 1 (Theme and Variations 1–14)
Sergei Prokofiev:
Piano Sonata No.7 in B♭ major Op.83
I. Allegro inquieto
II. Andante caloroso
III. Precipitato
Carl Vine:
from Five Bagatelles
Semi Final Round
Semi Final Round
Ludwig van Beethoven:
Piano Sonata No.30 in E major Op.109
I. Vivace ma non troppo, sempre legato – Adagio espressivo
II. Prestissimo
III. Gesangvoll, mit innigster Empfindung. Andante molto cantabile ed espressivo
César Franck:
Prélude Fugue et Variation in B minor Op.18
I. Prélude. Andantino
II. Lento. Fugue. Allegretto ma non troppo
III. Variation. Andantino
Samuel Barber:
Sonata in E♭ minor Op.26
I. Allegro energico
II. Allegro vivace e leggiero
III. Adagio mesto
IV. Fuga: Allegro con spirito
Final Round
Final Round
Sergiu Natra:
Three Street Cortèges
I. Festival
II. Funeral
III. Revolt
Sergei Rachmaninoff:
from Études-tableaux Op.33
II. Allegro in C major
III. Grave in C minor
VIII. Grave in C# minor
Franz Liszt:
from Années de Pèlerinage Book II S.161
VII. Après une lecture de Dante: Fantasia quasi Sonata
Modest Mussorgsky:
Pictures at an Exhibition
[Promenade I] Allegro giusto, nel modo russico; senza allegrezza, ma poco sostenuto
I. The Gnome
[Promenade II]. Moderato commodo assai e con delicatezza
II. The Old Castle
[Promenade III]. Moderato non tanto, pesamente
III. Tuileries
IV. Cattle
[Promenade IV]. Tranquillo
V. The Ballet of the Unhatched Chicks in their Shells
VI. Samuel Goldenberg and Schmuÿle
[Promenade V] Allegro giusto, nel modo russico; poco sostenuto
VII. The Market at Limoges (The Great News)
VIII. Catacombs
IX. The Hut on Hens' Legs
X. The Great Gate of Kiev
Johann Sebastian Bach/Alexander Siloti:
Prelude in B minor BWV 855
Sergei Rachmaninoff:
from 10 Preludes Op.23