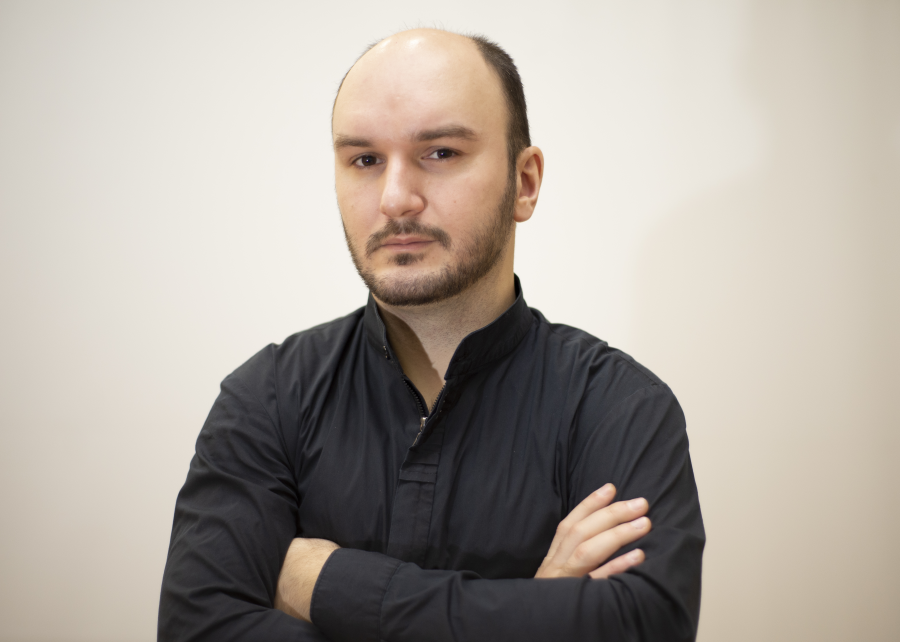 Background
Prizes
First Prize: 8th Almaty International Piano Competition (Almaty, Kazakhstan)
First Prize: Alexei Skavronsky Competition (Volgodonsk, Russia)
Second Prize: Gyorgos Thymis International Piano Competition (Thessaloniki, Greece)
Second Prize: Mykola Lysenko Music Competition (Kiev, Ukraine
Rustam Muradov launched his piano career in Vladikavkaz, graduating from the Middle Specialised College of Music of the St Petersburg State Rimsky-Korsakov Conservatoire and the Moscow State Tchaikovsky Conservatory.
Rustam has taken part in prestigious international piano competitions held in Kazakhstan, in the Southern Highlands of Australia (where he won equal second prize in 2011), in Pörtschach, Austria and in Odessa, Ukraine. He received the Yuri Temirkanov Prize in 2004. and in 2010 he received the Prize of the President of the Republic of North Ossetia-Alania, Russia.
Rustam has taken part in masterclasses with Sergei Osipenko, Mira Yevtich, Alexander Sandler, Nina Seryogina, Daniel Pollack, Willem Brons and Dmitri Bashkirov. He has toured extensively throughout Russia, Germany, Austria, Italy, Estonia, France, China, and Australia, performing with conductors such as Valery Gergiev. Hobart Earle, Dorian Wilson, Timor Zangiev and Vladimir Spivakov. Rustam has also performed with high profile orchestras including the Mariinsky Orchestra, the National Symphony Orchestra of Ukraine and the Odessa Symphony Orchestra.
2021 Competition Performances
Preliminary Round Preliminary Round
Webcast: Online Concert
Sunday 4 July 2021, 3.00pm
2021 Competition Repertoire
Preliminary Round
Preliminary Round
Johannes Brahms:
7 Fantasien Op.116
I. Capriccio. Presto energico
II. Intermezzo. Andante
III. Capriccio. Allegro passionato
IV. Intermezzo. Adagio
V. Intermezzo. Andante con grazia ed intimissimo sentimento
VI. Intermezzo. Andantino teneramente
VII. Capriccio. Allegro agitato
Joseph Haydn:
Sonata in C minor Hob.XVI:20
I. Moderato    
II. Andante con moto   
III. Finale. Allegro
Dominico Scarlatti:
Keyboard Sonata in B minor K.87
Semi Final Round
Semi Final Round
César Franck:
Prélude Choral et Fugue in B minor
I. Prélude. Moderato
II. Choral. Poco più lento – Poco allegro
III. Fugue. Tempo I
Claude Debussy:
from  Préludes Book 1 
X. La Cathédrale engloutie  
Sergei Rachmaninoff:
Variations on a Theme of Corelli Op.42
Theme. Andante
Variation 1. Poco piu mosso
Variation 2. L'istesso tempo
Variation 3. Tempo di Minuetto
Variation 4. Andante
Variation 5. Allegro (ma non tanto)
Variation 6. L'istesso tempo
Variation 7. Vivace
Variation 8. Adagio misterioso
Variation 9. Un poco piu mosso
Variation 10. Allegro scherzando
Variation 11. Allegro vivace
Variation 12. L'istesso tempo
Variation 13. Agitato
Intermezzo
Variation 14. Andante (come prima)
Variation 15. L'istesso tempo
Variation 16. Allegro vivace
Variation 17. Meno mosso
Variation 18. Allegro con brio
Variation 19. Piu mosso. Agitato
Variation 20. Piu mosso
Coda. Andante
Maurice Ravel:
Menuet sur le nom d'Haydn
Maurice Ravel:
from Le tombeau de Couperin
Final Round
Final Round
Franz Liszt:
from Années de Pèlerinage Book II S.161
Robert Schumann:
Fantasie in C major Op.17
I. Durchaus phantastisch und leidenschaftlich vorzutragen – Im Legendenton – Erstes Tempo –Adagio – Im Tempo  
II. Mässig. Durchaus energisch – Etwas bewegter – Viel bewegter  
III. Langsam getragen. Durchweg leise zu halten – Etwas bewegter– Nach und nach bewegter und schneller – Adagio 
I. Noctuelles
II. Oiseaux tristes
III. Une barque sur l'océan
IV. Alborada del gracioso
V. La vallée des cloches
Igor Stravinsky/Guido Agosti:
The Firebird: Suit for Piano
I. Infernal Dance
II. Lullaby  
III. Finale  
Claude Debussy:
from Twelve Études Book 2
No.11 Pour les arpèges composés