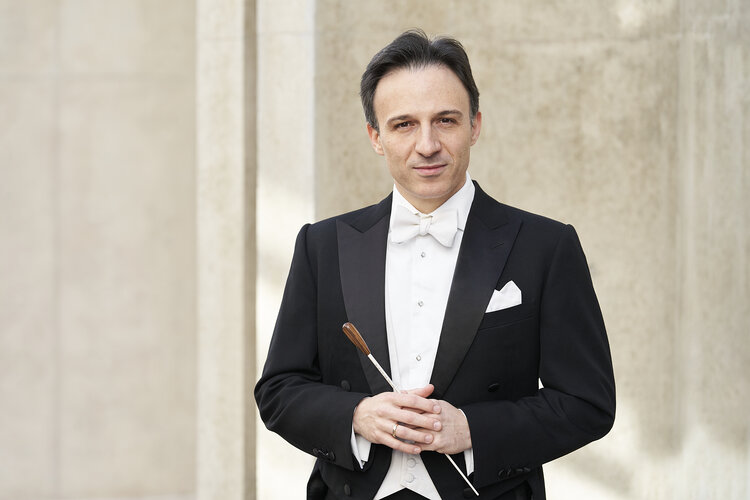 With a career spanning more than 20 years as a gifted cello soloist, orchestral musician and now conductor, Umberto Clerici has gained renown as an artist of diverse and multifaceted talents.
Umberto was recently appointed as Chief Conductor of the Queensland Symphony Orchestra and commenced his tenure at the beginning of this season.
It was in Sydney in 2018 that Umberto made his conducting debut with the Sydney Symphony Orchestra at the Sydney Opera House. Following a rapid trajectory of conducting engagements in Australia, Umberto is now in high demand with the major symphony orchestras of Australia and New Zealand.
As a guest conductor, recent and future highlights include multiple series with the Sydney Symphony Orchestra and Melbourne Symphony Orchestra. After extremely successful debut engagements, Umberto looks forward to returns in consecutive season appearances with the West Australian and Dunedin Symphony Orchestras. In addition, Umberto recently made his debuts with the Adelaide Symphony and New Zealand Symphony Orchestras and looks forward to making his debut with the Christchurch Symphony Orchestra later this season. He also recently had his first collaboration with Queensland Opera in Verdi's Macbeth.
Umberto began his career as a virtuoso cellist, making his solo debut at the age of 17 performing Haydn's D major cello concerto in Japan. After years of performing on the stages of the world's most prestigious concert halls, Umberto took up the position as Principal Cellist of the Royal Opera House in Turin, which he held for four years. In 2014, he was appointed as the Principal Cello of the Sydney Symphony Orchestra, a position he held until 2021. As a cellist Umberto is beloved by Australian audiences.