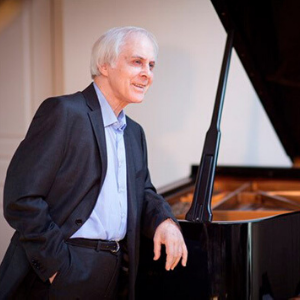 Background
Vladimir Tropp was born in Moscow in 1939. He studied at the celebrated Gnessins Music School from an early age. His teachers were the distinguished Russian pedagogues, Moisey Feigin and Teodor Gutman, both pupils of Heinrich Neuhaus.  As a student, he gave recitals and performed with orchestras and was awarded the prestigious Rimsky-Korsakov scholarship.
In 1963 Tropp graduated with distinction from the Gnessins State Musical Institute, now named the Gnessins Russian Academy of Music. He immediately began his graduate work while teaching there and is now regarded as of the Academy's leading professors. In 1997 he became chair of the Academy's piano department. For the last sixteen years he has also held a professorship at the Tchaikovsky Moscow State Conservatory. In his teaching Professor Tropp strives to maintain the highest traditions of the Russian piano school. Several of his students have won major international competitions.
In 1970, Tropp became a laureate of the International Enesco Piano Competition in Bucharest. Since then, he has constantly performed and offered masterclasses in Russia and many other countries: the Netherlands, Italy, Japan, Finland, USA, Germany, UK, Ireland, France, The Czech Republic, Portugal, Canada, Costa Rica, Taiwan and Southern Korea.
The principal part of his repertoire is romantic music, with acclaimed performances of Rachmaninoff, Scriabin and Medtner. The celebrated pianist Lazar Berman has written that Tropp "is a singular and subtle artist. Sincerity and poetic manner, improvisatory freedom and rhythmic flexibility, a highly coloured pianistic sound join with a powerful and strongly willed conception – these are the essential traits of the artistic persona of Vladimir Tropp."
Tropp has made a series of recordings on radio, LPs and CDs. From 1995, he produced ten CDs of works by Schumann, Chopin, Brahms, Tchaikovsky, Rachmaninoff, Scriabin and Medtner (Denon, Japan). One of his CD series, Russian Miniatures, won the prestigious Record Academy's 1998 best of the year award.
Professor Tropp has a wide range of interests. He has published work dedicated to Russian and international performing art, as well as articles and commentary on the recordings of outstanding performers. He has made a series of radio broadcasts. Significantly, Professor Tropp has undertaken an extensive study of Sergei Rachmaninoff's creative work, examining archives of the composer's work in the United States, Russia, Switzerland and Costa Rica. This study has led to several published articles and consultation on a television film about Rachmaninoff.
He serves on the boards of the Rachmaninoff (as a vice-president) and Scriabin Societies in Russia and is a member of the Teodor Leschetizki and Scriabin Societies in the US and the Glenn Gould Society in Canada. He has taken part in music festivals in Kuhmo (Finland), Portogruaro (Italy) and others, where he played solo and chamber music. He regularly serves on juries of international and national piano competitions, among them the F. Lamond International Competition in Glasgow, the International Piano Competition in Hamamatsu, and the Rachmaninoff International Piano Competition in Moscow.