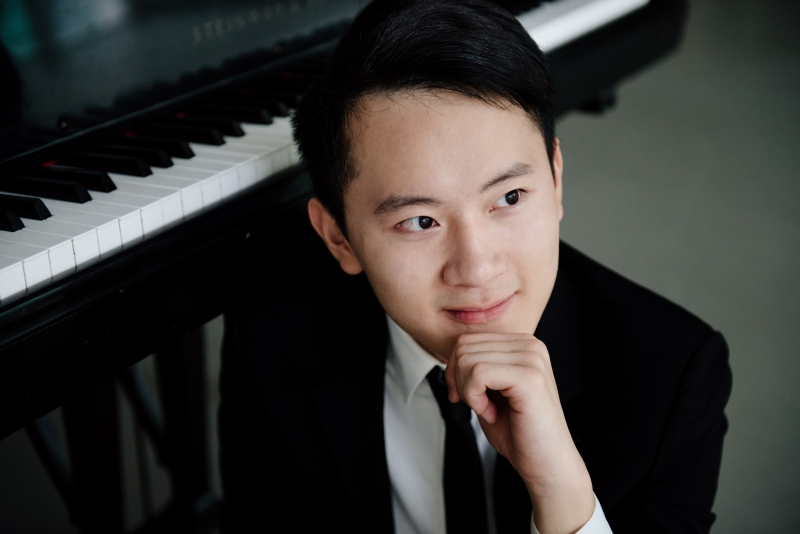 Background
Prizes
Rex Hobcroft AM People's Choice Prize
Sydney International Piano Competition
Fourth Prize: Maria Canals International Piano Competition (Spain)
Second Prize: Valsesia Musica International Piano Competition (Italy)
First Prize: Lee International Piano Competition (USA)
Second Prize: TOYAMA International Youth Piano Competition (China)
Second Prize: Gulangyu National Piano Competition (China)
Ming Xie began his musical training when he was six years old. He was enrolled at the Affiliated Middle School of Sichuan Conservatory of Music in Chengdu, where he studied with Professor Hanguo Yang. In 2001, he was accepted by the Pre-College Division at The Juilliard School where he worked with Matti Raekallio. Ming is currently studying at The Juilliard School with Emanuel Ax and Sergei Babayan.
Ming has performed at the Auditori Enric Granados and Petite Palau at Palau de la Música Catalana in Spain, Steinway Hall, Alice Tully Hall and Peter Jay Sharp Theatre at the Lincoln Center, New York, Reinberger Chamber Hall at Severance Hall in Cleveland and Beijing Concert Hall and Jiaozi Grand Theatre in China. His past recitals include an all-French program Les Couleurs de la Nuit and an all-German program Im Augenblick.
Ming made his first recital tour of M/XII 04 Ming Xie L!ve in six cities in four countries in 2014. He will undertake his next recital tour Poème et Fantaisie at the end of 2016.
2016 Competition Repertoire
Preliminary Round
Round 1: 20-Minute Recital
Enrique Granados:
El Amor y la muerte (Balada) from 'Goyescas' Op.11
Gérard Pesson:
Vexierbilder II: Speech of clouds
Felix Mendelssohn/Sergei Rachmaninoff:
Scherzo from 'Midsummer Night's Dream'
Round 2: 30-Minute Recital
Percy Grainger:
Ramble on Love after Richard Strauss' 'Der Rosenkavalier' (1927)
Maurice Ravel:
Gaspard de la nuit
Semi Final Round
Round 1: 65-Minute Recital
Isaac Albéniz::
Iberia Book I: 1. Evocación
Karol Szymanowski:
from 4 Études Op.4
Allegro moderato
Allegro molto
Ludwig van Beethoven:
5 Variations on Rule Britannia WoO 79
César Franck:
Prélude, Chorale et Fugue
Sergei Prokofiev:
Piano Sonata No.6 in A Major Op.82
Allegro inquieto
Allegretto
Tempo di valzer, lentissimo
Vivace
Round 2: Accompaniment/Chamber Music
Gabriel Fauré:
Sonata for Violin and Piano No.1 in A Major Op.13
Allegro molto
Andante
Allegro vivo
Allegro quasi presto
Robert Schumann:
Piano Quintet in E♭ Major Op.44
Allegro brillante
In modo d'una marcia. Un poco largarmente
Scherzo: Molto vivace
Allegro ma non troppo
Final Round
Round 1: 18th Century Concerto
Wolfgang Amadeus Mozart:
Concerto No.24 in C minor K.491
Allegro
Larghetto
Allegretto
Round 2: 19th or 20th Century Concerto
Sergei Prokofiev:
Concerto No.3 in C Major Op.26
Andante. Allegro
Tema con variazioni
Allegro, ma non troppo