Like her stage persona, Olga Kern's career sparkles with incredible competition wins and performances with international orchestras and artists. Born into a musical family in Moscow, she calls New York home these days where she teaches at the Manhattan School of Music, runs the Aspiration Foundation she and her conductor/composer brother Vladimir Kern established in 2012, runs her own international piano competition and looks forward to performing on stage again.
Olga's journey from her first win (aged 11) at the Concertino Praga Competition in the Czech Republic, to the gold medal at the 2001 Van Cliburn International Piano Competition – the first woman in over 30 years to do so – and her stellar career that followed means she has a deep passion for 'giving back'. The Aspiration Foundation provides financial and artistic assistance to young musicians throughout the world. Likewise, the Olga Kern International Piano Competition (OKIPC) she established in in 2016 – just like The Sydney – aims to provide that critical professional foothold for talented young pianists.  
How are you using this time of social distancing and venue lockdowns? Taken up anything new? Learning new works?
In this uncertain time of COVID I am staying with my parents in Moscow, Russia. My last concert was in Reykjavik in March with the Iceland Symphony Orchestra, where I played Rachmaninoff's Concerto No.3 in their beautiful Harpa Concert Hall. Then everything else was cancelled in my concert schedule. I couldn't fly back to New York, where I have lived for more than 16 years already, as all flights were fully booked. So, the only option I had was to fly to Moscow to be with my parents. We can't go anywhere as all boarders are closed in Russia. My son came here as well, so we have a family reunion. I don't see my parents very often because I am on the road all the time performing, so this COVID situation gave me the chance to spend quality time with my family. I am listening to a lot of music, practising, teaching my students from the Manhattan School of Music (online of course), reading lots of books, and participating in online festivals and competitions. I keep myself busy!
Travel is extremely limited at the moment but is there a journey you would like to undertake in the future? For work, or for pleasure? What do you hope to find there?
I usually travel a lot; every week I am in a different place. Sometimes I visit three different countries in one week, with three different performances. So it's nice to stay in one place for a longer period of time, I am enjoying it. I have been to and performed in almost every continent on our planet. For my vacations I usually prefer to stay at home. But the only place I dream of visiting is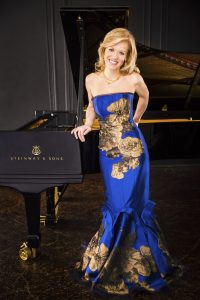 Antarctica, the South Pole. That is the only continent I haven't seen yet. My dream is to transport a piano and perform there – outside in that magical nature, beautiful music for beautiful nature. Nothing is impossible in life, so hopefully my dream will come true sometime in the future.
Is there a work, or a composer, who has taken you on a 'journey' – perhaps of discovery, emotion or evolution – as you get more deeply involved with it/them?
I have many composers and pieces which have taken me on a journey of discovery throughout my career. I think to better understand the piece you are performing you must get to know the composer's life, their other compositions – their symphonies, operas, chamber music etc. The process of learning and practising a new piece is totally magical, in my opinion. I love discovering new music, it's always so fascinating for me.
Your Aspiration Foundation, the OKIPC and your work at the Manhattan School of Music and indeed as a juror of The Sydney, shows your deep commitment to helping young musicians succeed. Is this work the 'destination' as an accomplished musician, or part of your journey? Is there some else you want to achieve?
It's definitely a journey for me. I am also involved in the Virginia Arts festival where I am the director of the chamber music series. Not only do we have there the Great Masters concert series, but also special concerts for young musicians who are just starting their career. I think it's very important to help young musicians, to give them opportunities to perform. So my journey will continue in this direction. I have many interesting ideas, but I usually don't like to talk about it when it's just in the process. It's always better to present it when it's all ready, it's always a nice and pleasant surprise.
Which do you prefer? The journey, or the destination?
I must say that I like both. The journey, because you are excited to see what is waiting for you at the destination. And the destination, because you can discover the new fantastic nature and culture there, meet and work with incredibly interesting people. I definitely like both!
When we hold our rescheduled competition in 2021, will this be your first time in Sydney? What are you looking forward to?
I have been to Australia before. I came to Sydney two years ago when I performed at the Huntington Estate chamber music festival. What a wonderful festival it is! Carl Vine and Musica Viva made a great festival there; it's a beautiful place where the music and nature merge together in a very magical way. I met a lot of wonderful musicians there and made a lot of friends. So I can't wait to come back to Sydney to see my old friends, meet new ones and to enjoy the unique nature of Australia… and, of course, to listen to and be inspired by the talented pianists which will be performing at the Sydney International Piano Competition. I can't wait till next year!