DAWEN LI
Ask Chinese-born competitor Dawen Li about who has made him the pianist he is today and he points to two teachers who he reveres as father figures in his life.
"Changxin Guan is a piano professor at China Conservatory of Music. I studied with him from 13 until I graduated. He is more like a figure of the father in my life. From him, I not only learned to be a musician, but also to be honest, sincere, and kind. He pursued a music career for the pure love of music and art: he never went after fame and money. After I came to study in the United States, I still keep a very close relationship with him. Every time we get together we talk about everything about music, art, life, and family – like father and son, or like old friends."
"When I talked to my teacher in China, Professor Guan, he is so excited to see how I am going to perform in The Sydney competition. But he has to wait for another year."
Dawen is currently studying for his doctoral degree at the Texas Christian University under Dr Tamás Ungár. Professor Changxin Guan also studied with Dr Ungár, so the master-student circle turns again. "He is the most diligent and kind man I have ever seen. He has given me all his support on my studies and daily life. He always pushes me to break through my boundaries and tells me never to give up," said Dawen.
Only last January Dawen became a father himself. "My daughter, Nephele, is the cutest angel in the world. Preparing for the competition and taking care of the family at the same time is incredibly challenging. Still, I really enjoy my life at the moment."
"My parents and parents-in-law are so happy for the birth of Nephele, but unfortunately, they are in China and haven't had the chance to see her in person yet. They want to see Nephele and send her their love, so we often do video chat."
"Although things and plans were impacted and changed, we are truly happy about this special and precious period in our life. We have more time to stay with Nephele, and watching her growing up every day is such a wonderful thing. I am so glad I didn't miss any moment of the first three and a half months of Nephele's life."
D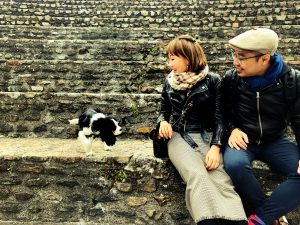 awen's wife Ying is also an outstanding musician on the Guzheng – a traditional Chinese string instrument, like a zither. "She has inspired me in many ways. She is always my first audience when I am learning a new piece. She always gives me great comments from unique angles. We have been appearing as a duo of piano and Guzheng in many concerts. The experience of collaboration between us guides me to discover a variety of sounds and musical languages."
TAMILA SALMIDJANOVA
Tamila Salimdjanova comes from great musical stock. Born in Tashkent, she recalls, "I made my orchestra debut at the age of nine years old playing Mozart's Piano Concerto No.15, K.450 with the National Symphony Orchestra of Uzbekistan under the baton of Kuvanch Usmanov, my grandfather."
And her family's musical heritage is extensive:
"I come from a family of musicians: my grandfather was a conductor. My mother is a musicologist. My brother is a violinist. Hence, I grew up in a musical environment and music was a natural element of my existence from my early days."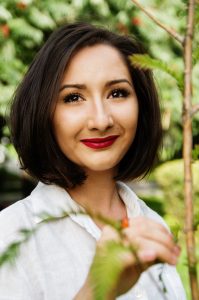 Her friends and the people she meets are one source of inspiration for Tamila as an artist. But what does she get up to when not playing piano? "I adore sleeping a lot, hanging out with friends, travelling world-wide, reading, drawing and watching movies," she said. Obviously a quiet ruse disguising her enthusiasm for thrilling danger sports: "I am a fan of adrenaline-involving events. One of the biggest impressions I had last year was to base jump from a 128-meter-tall building in Berlin."
Look out below!