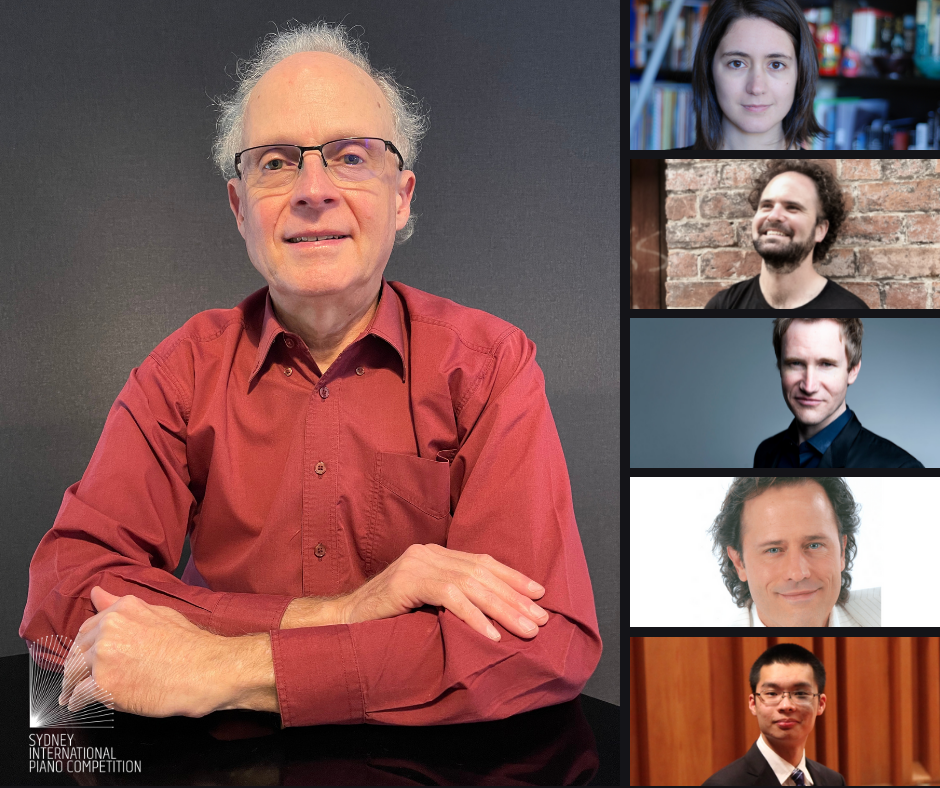 "It is extraordinary to think there are now almost a hundred new Australian piano pieces available as a result of this competition. The range of styles was striking – something for everyone – and I hope many of the works will find performers and listeners in the near future. "
Piers Lane
Following the announcement of the winners of Composing the Future, we look forward to the premieres of these new works across Australia in 2022, marking the 45th anniversary of The Sydney International Piano Competition.
Colin Spiers was awarded the first prize of $20,000 with his winning composition titled 'Eine Kleine Nachtmusik', which is a work inspired by a surrrealist painting. It's in four movements, just under twenty minutes in length and is dazzling pianistically. Mr Spiers' work will receive a world premiere by Italian/Slovenian pianist Alexander Gadjiev, the winner of the 2021 Sydney International Online Piano Competition, during his national tour in October and November this year.
Each of the jury members also selected a work, which they will perform publicly in 2022.
Premiere dates will be added below as they are announced.
First Prize Winner
Colin Spiers – Eine Kleine Nachtmusik
Premiered by Alexander Gadjiev
Premiere dates Oct-Nov 2022. Click here.
Jury Prize Winners
Martin Lass – Journey to Sydney – Snapshots of an Uncommon Childhood
Premiered by Ian Munro
Premiere dates: 10 September 2022 – Tempo Rubato (Melbourne)
Justin Williams – Three Intermezzi
Premiered by Daniel de Borah
Premiere dates: To be announced
Tristan Coelho – Ice Monuments
Premiered by Kristian Chong
Premiere date: 31 October 2022 – Melbourne Recital Centre
Sam Wu – Tiny Forests
Premiered by Tamara Anna Cislowska
Premiere dates: To be announced
Peggy Polias – Sonata: Ode
Premiered by Bernadette Harvey
Premiere dates: 2 December 2022 – Coffs Harbour
Upcoming Concerts
Buy Tickets
Coffs Harbour NSW
Lecture Theatre D, Coffs Harbour Education Campus
Buy Tickets
Tickets
Bernadette Harvey - World Premiere of Sonata: Ode by Peggy Polias
Buy Tickets
Bendigo VIC
Buy Tickets
Tickets
Daniel de Board - World Premiere of Three Intermezzi by Justin Williams
Brunswick VIC
Tickets
Ian Munro - World Premiere of Snapshots from an Uncommon Childhood by Martin Lass
Bathurst NSW
Tickets
Tamara Anna Cislowska - World Premiere of Tiny Forests by Sam Wu
See Out West Piano Fest for ticket prices
Sydney NSW
Verbrugghen Hall
Sydney Conservatorium of Music
Tickets
Alexander Gadjiev - World Premiere of Eine Kleine Nachtmusik by Colin Spiers
Melbourne VIC
Primrose Potter Salon, Melbourne Recital Centre
Tickets
Kristian Chong - World Premiere of Ice Monuments by Tristan Coello
Program
Colin Spiers – Eine Kleine Nachtmusik
Martin Lass – Journey to Sydney –  Snapshots of an Uncommon Childhood
Justin Williams – Three Intermezzi
Tristan Coelho – Ice Monuments
Sam Wu – Tiny Forests
Peggy Polias – Sonata: Ode
With thanks to
Creative Partnerships Australia